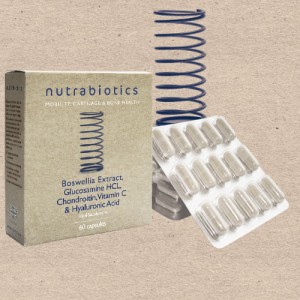 Nutrabiotics is pleased to announce the release of its new premium supplement for Mobility, Cartilage and Bone health. This new powerful supplement has been specially formulated for people suffering with joint related conditions or who live an active lifestyle.
Muscles and joints can take a lot of stress throughout the day and the pressures can increase with an active lifestyle and age. Our unique and patented Boswellia Extract contains only key active ingredients. The Boswellic Acids are combined with high strength Glucosamine HCL, Chondroitin Sulphate, Hyaluronic Acid & Vitamin C that contributes to collagen formation and the normal function of bones and cartilage.
Boswellia has been used for thousands of years as a botanical medicine and continues to be used today because of its powerful and fast acting effects. Boswellia extract is rich in boswellic acid and is often used to help treat joint and bone conditions such as Osteoarthritis, Rheumatoid arthritis (RA) and even Asthma and Inflammatory bowel disease. This is because many studies have shown that boswellia may naturally reduce inflammation. In fact with over 400 independent clinical studies supporting its use it's clear to understand why this revolutionary high purity, natural supplement has already received fabulous feedback during our trials, with people reporting an increase in joint comfort within the first 7 days of supplementation.
Nutrabiotics Boswellia Supplements are available to purchase direct from this website or throughout the UK at Authorised Nutrabiotics Stockist.
Each sprinkle capsule contains:
475mg – Glucosamine HCL (99% Pure)
200mg – Chondroitin Sulphate (90% Pure)
75mg – Boswellia Extract (Boswellic Acids)
40 mg – Vitamin C (as ascorbate) (99% Pure)
7.5mg – Hyaluronic Acid (99% Pure)
https://www.nutrabiotics.co.uk/wp-content/uploads/2015/09/nutrabiotics-boswellia-supplement.jpg
500
500
Nutrabiotics
https://www.nutrabiotics.co.uk/wp-content/uploads/2017/07/nutrabiotics-logo-new.png
Nutrabiotics
2015-09-18 21:03:18
2015-11-09 00:58:33
NEW Boswellia Joint Supplements