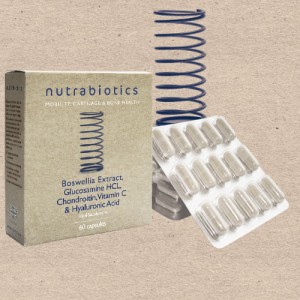 6 weeks ago Nutrabiotics introduced me and my colleagues to their new boswellia product. I really liked the sound of it and hadn't seen a product like this before.
As I recommend a lot of joint products for customers, I thought I would try it myself due to having chronic arthritis in my neck and shoulders. This caused constant pain, headaches and stiffness in my neck.
After taking their boswellia product, I felt the difference within a week. The headaches went, and the mobility in my neck improved hugely. Since then I have continued to take this product and the results are astounding. I would highly recommend this product, due to its fast acting nature, and the added bonus of being 100% natural. Not only that I have been recommending this product to my customers to.
Thanks Nutrabiotics.
Bernie Slater, Moorey's Health Store
https://www.nutrabiotics.co.uk/wp-content/uploads/2015/09/nutrabiotics-boswellia-supplement.jpg
500
500
Nutrabiotics
https://www.nutrabiotics.co.uk/wp-content/uploads/2017/07/nutrabiotics-logo-new.png
Nutrabiotics
2015-12-04 14:54:35
2018-04-18 10:34:08
Moorey's Health Store see the benefits of Boswellia for themselves