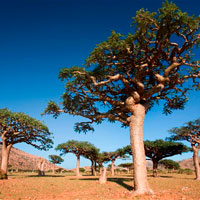 There are many health benefits of boswellia. It has been used for thousands of years as botanical medicine and is continued to be used today because of its powerful and fast acting effects. It is more commonly known today as Frankincense (Indian), through it's Biblical references.
Boswellia (boswellia serrata) is a botanical medicine sourced from the resin of the boswellia tree, which is native to North Africa and India. The particular species of 'Boswellia serrata' mainly grows in mountainous forests of western and central India. The resin, which is secreted naturally to protect the Boswellia trees is tapped and purified for use in powder form. This gum tree resin consists of essential oils, gum, and terpenoids.
Boswellia extract is rich in boswellic acid and in herbal medicine and is often used to help treat joint and bone conditions, such as osteoarthritis, rheumatoid arthritis (RA) and even asthma and inflammatory bowel disease. This is because many studies have shown that boswellia may naturally reduce inflammation. In fact there are over 400 independent clinical studies supporting its use. Boswellia can also be used to support and hasten the body's natural healing of wounds, bones and bruises.
Boswellia as a natural painkiller
Besides being an effective anti-inflammatory, boswellia can be an effective natural painkiller and may also prevent the loss of cartilage. A study published in 2008 suggested that boswellia may reduce pain and boost the physical capability of people with osteoarthritis of the knee. An earlier report from 2006 also suggested that boswellia may be useful in the treatment of rheumatoid arthritis.
A 2003 study published in the journal Phytomedicine, found that all 30 patients who were reported to have Osteoarthritis knee pain and received boswellia, reported a reduction in the pain they experienced. They also indicated an increase in the distance they could walk and flexation of their knee.
Boswellia is an exciting nutrient with many anti-inflammatory health benefits and Nutrabiotics has combined Boswellia Extract with Glucosamine HCL, Chondroitin, Vitamin C & Hyaluronic Acid to create a specially formulated supplement to help joint pain, mobility, cartilage & bone health.
Sengupta K, Alluri KV, Satish AR, Mishra S, Golakoti T, Sarma KV, Dey D, Raychaudhuri SP. "A double blind, randomized, placebo controlled study of the efficacy and safety of 5-Loxin for treatment of osteoarthritis of the knee." Arthritis Res Ther. 2008;10(4):R85.
Ammon HP. "Boswellic acids in chronic inflammatory diseases." Planta Med. 2006 72(12):1100-16.
https://www.nutrabiotics.co.uk/wp-content/uploads/2015/09/boswellia-joint-pain.jpg
200
200
Nutrabiotics
https://www.nutrabiotics.co.uk/wp-content/uploads/2017/07/nutrabiotics-logo-new.png
Nutrabiotics
2015-09-16 21:12:09
2017-11-07 16:54:38
Understanding the key health benefits of boswellia